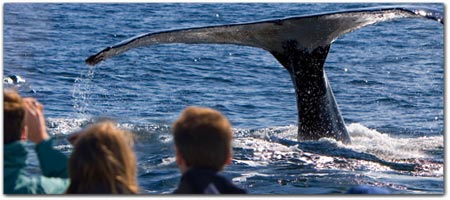 WHALE WATCHING ~ NOVEMBER - APRIL

Mendocino whale watching boats offer whale watching tours during the whale's migration past the Mendocino Coast. California Gray Whales migrate South from Alaska to Baja California during the months of November through February and return North during the months of February through April. They are very close to shore and only a 5-15 minute ride gets you a better than 95% chance of sighting these whales.
Whale watching with a charter boat is the perfect opportunity to be right next to these gentle giants and fun for people of all ages.
Mendocino Whale Watching from Shore or Charter Boats